VoCore2 Beta open NOW!!!
Thanks to all the VoCore contributors, without you VoCore is just an unknown project. In everyone's help and support, VoCore grows up and it almost reaches its second version!
Couple days ago, we reach our final target: Lower power(< 0.5watt when low data transfer), Max signal output(>19.5dbm peak), Two antennas slots, 30+ GPIOs.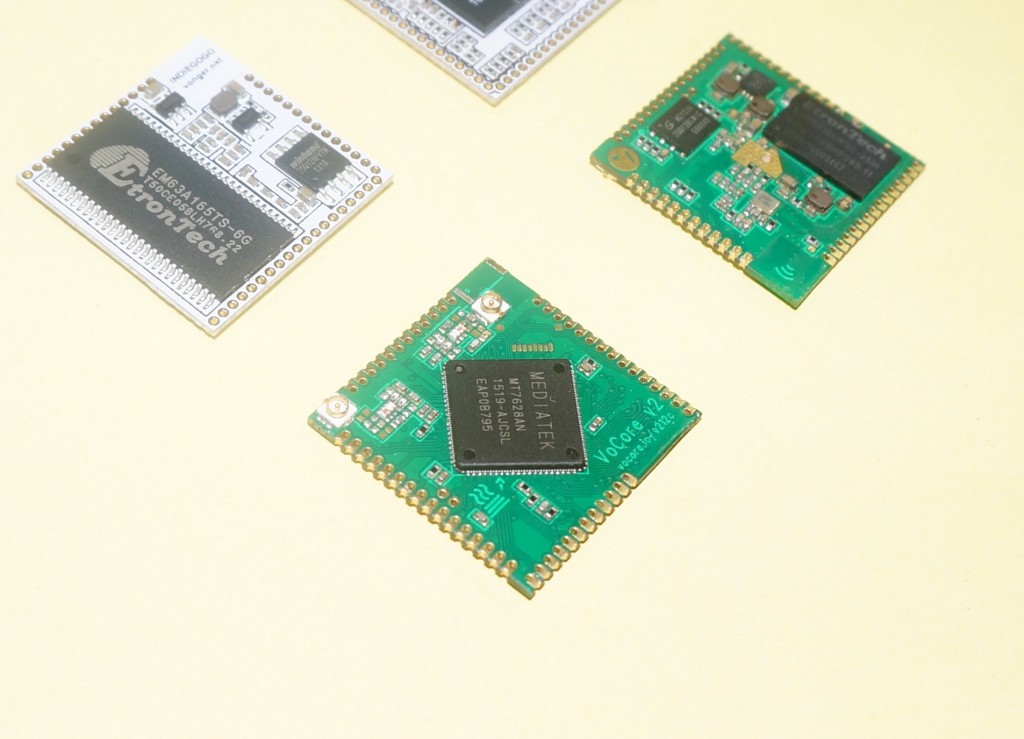 Now, we are looking for people join us to test and develop its drivers for openwrt.
This beta, we have four versions, named v212a, v212b, v212c, v212d. Release version will be picked from one of the four, this time we have fixed all hardware bugs we found. 🙂
It is now at http://vocore.io/store, please be notified, this beta version is ONLY for developers, because we still have many drivers and softwares are not finished for this board; not suggested for beginners; the more developer, the better the further release version(and beginners might find too many bugs let your crash 🙂
The price for now is 50.00USD, include around 20.00USD for DHL shipping and 30.00USD for two VoCore2 beta version. 30USD for VoCore2 will be fully REFUNDED* for beta CODE CONTRIBUTORS**.
* also discount for final version vocore/dock, it is used to avoid abuse free beta.
** contribute vocore2 related patchesto openwrt.org or other contribute.
We only have around 100pcs are making in SMT factory now, so hurry up. 🙂
Questions please submit to forum.vocore.io, VoCore2 section. My workmate will also open a Skype/Facebook group for faster reply.
Possible changes for final release version(we are still discussing)
1. memory 64MB -> 128MB.
2. 2x U.FL slot -> on board antenna + 1x U.FL slot.
3. board color green -> white.
FAQ:
1. What is the final release version price?
VoCore2 price has a high chance to be same as current VoCore(20USD).
2. Will it have a dock version?
Yes, we want to make the price lower and even include a beautiful shell.
3. When will it release?
We plan to release it in two months, this depends on the beta test process, also if we have lucky on mass production.
Thanks to openwrt team again, their latest version works quite well on VoCore2.
Now I can have a happy time on developing SPI-GDMA driver, just hitting keys, much easier than using electric iron & heat gun. :p
PS: hardware part finally finished, I spent more than 1600 hours, hope them worth it 🙂