VoCore v0.3~v0.4: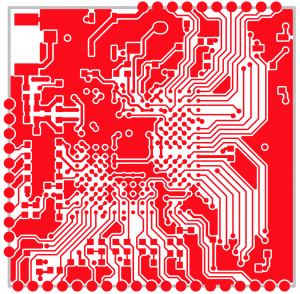 TOP (from left to right)
PN03: +3.3V~+6.0V(USB +5.0V or Li-Battery 3.7V), POWER
PN04: GND, POWER
PN05: B11, JTAG_TDO, GPIO
PN06: A11, JTAG_TRST_N, GPIO
PN07: A12, JTAG_TCLK, GPIO
PN08: A13, JTAG_TMS, GPIO
PN09: B12, GPIO0
PN10: A14, JTAG_TDI, GPIO
PN11: B13, I2C_SD, GPIO
PN12: B14, I2C_SCLK, GPIO

LEFT (from top to bottom)
PN23: +1.8V, OUTPUT POWER, max 600mA
PN22: J4, DCD_N, UARTFULL, GPIO
PN21: K4, CTS_N, UARTFULL, GPIO
PN20: K3, EPHY_LED0, GPIO, GPIO
PN19: K2, TXD, UARTFULL, GPIO
PN18: L1, EPHY_LED1, GPIO
PN17: L3, DSR_N, UARTFULL
PN16: L4, EPHY_LED2, GPIO
PN15: M1, EPHY_LED3, GPIO
PN14: M3, RIN, UARTFULL, GPIO
PN13: M4, EPHY_LED4, GPIO

BOTTOM (from left to right)
PN24: N2, TXD2, UARTLITE, GPIO
PN25: P2, RTS_N, UARTFULL, GPIO
PN26: N3, RXD, UARTFULL, GPIO
PN27: P3, RXD2, UARTLITE, GPIO
PN28: N4, DTR_N, UARTFULL, GPIO
PN29: N5, EPHY_TXN_P0
PN30: P5, EPHY_TXP_P0
PN31: M5, EPHY_RXP_P0
PN32: L5, EPHY_RXN_P0
PN33: P9, EPHY_RXP_P4
PN34: L9, EPHY_TXP_P4
PN35: N9, EPHY_RXN_P4
PN36: M9, EPHY_TXN_P4
PN37: GND, POWER
PN38: GND, POWER
PN39: N12, UPHY0_PADM, USB
PN40: P12, UPHY0_PADP, USB
PN41: +3.3V, POWER
PN42: +3.3V, POWER
Power must connect to PN03/PN41&PN42. PN03 input voltage is +3.3V~6.0V, PN41/PN42 is 3.3V. If PN03 is connected, PN41/PN42 is able to output +3.3V power, current is about 500mA(3.3V->PN03), 750mA(5.0V->PN03).